For the majority of agents that I work with, one of their main interests is to be found in Google.
Google can drive a large amount of targeted people to your website if you can rank on the front page for multiple search terms.
It can be a great way to reach more people and position yourself as the local expert.
However many of the websites I have seen in the real estate industry do a very poor job at optimising their pages to be found in Google.
A lot that agents (and even a few large agency websites) focus on having pretty websites on the surface rather than doing the groundwork to add the correct SEO elements to their web pages. Yes, design and branding is essential if your website looks like it is 10 years old you're screwed, but if you want to leverage Google to build your profile online you need to lay the groundwork correctly.
Search Engine Optimisation (SEO) – is a complicated topic, which has created a lot of confusion around how to get your website to show up on the first page of Google.
There are a few things that if done correctly can drastically improve your presence in the search engines.
In this article, we're going to take a look at how you can correctly optimise your real estate content to get found in Google.
How Google Ranks Websites
Before you can start optimising your website you need to understand what Google is looking for in order for your website to be featured on the first page.
To do this lets put ourselves in Google's shoes. Google is a tool that people use to help them to find things and learn more about certain topics.
So let's say Sally is coming to Google searching for "best ways to add value to your home"
Google had better provide some good content on ways to add value to your home. If Google doesn't provide Sally with what she is looking for or the websites that Google says are relevant have a poor user experience (eg. they are old, take ages to load or don't work on a mobile phone.) Then Sally is going to be unhappy with Google.
This is the reason that people use Google over other search engines like Bing and Yahoo. People trust that Google is going to deliver the best information to help solve their problem.
Google is a robot that uses an algorithm to sort through the billions of webpages on the internet.
Google's algorithm then determines what the content on each of your pages of your website is about and how authoritative your website is in regards to other websites that are also talking about that content.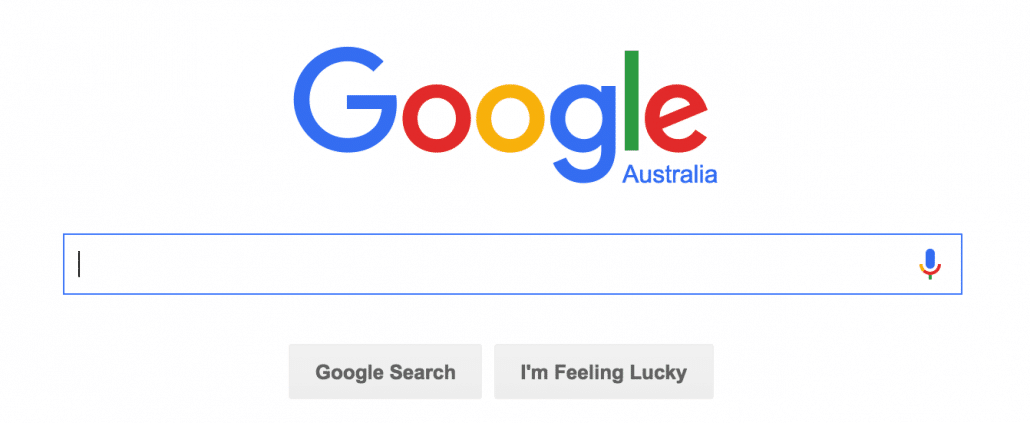 Content Relevance
If you are looking to be found in Google for a search term, Google wants to make sure that your content is relevant to that search. Back to the example before, if you want to be found when Sally is searches "best ways to add value to your home"
Then you need to have content on your website about the Best Ways To Add Value To Your Home. There are a number of ways that you can show Google that your content is relevant to a search term which we will cover later in this article.
Having content that is really relevant to the search term is the first step to getting your website ranking on Google.
Content Authority
So lets say that you have a page on your website that is all about "best ways to add value to your home"
You should then appear in Google right? Possibly not.
There are lots of websites out there on the internet that could all be competing for that same spot at the top of the first page of Google.
And they might all have content that is about the "best ways to add value to your home." So how does Google decide who deserves to be on the first page?
Google also looks at the authority of the website that the content is on. For example if you are searching for the "temperature of mars" you would see results from Space.com, NASA, Wikepedia, Sciencemag.org
These are all sites that have a high level of authority around the topic.
Google has a range of factors that it uses to determine the authority of a website.
Age of the website – The older the website the more Google trusts it.
Number of pages – If a website has lots of pages that are all about similar topics this helps to show authority.
Social media shares – If people are liking and sharing your website it tells Google that you have content that other people might want to read too.
Number Backlinks – This is when other websites link back to your website. This shows trust to Google as other websites are saying that your website is a credible source of information.
The authority of your website combined with the relevance of your content on the page provides Google with an idea of where they should rank your website. This is why realestate.com.au ranks at the top for pretty much every real estate related search term. They are an old website, with lots of pages, social media shares and thousands of backlinks.
Introducing Blogging
What is a blog?
A blog is short for web log. It is a place where you can post articles and videos to your website.
Blog's are extremely beneficial to help increase your websites search engine rankings in Google.
Google loves blogs, they provide great content for people to read and watch.
Blogs also allow you as a real estate agent to provide valuable information to your local marketplace, which can be shared on social media to get in front of more of the people that matter to you.
And the more helpful content that your website has the more authoritative Google will find it.
Strategy
If your website has been setup correctly, all of your current pages should be optimised for keywords that you are looking to rank for.
Keyword selection is important. If you don't get this right you will struggle to get found in Google.
You can use the Google Keyword Planner to get a rough idea of what people are searching for.
A keyword (or search term) is the words that people enter into a Google search. eg. real estate agents Aspley is a different search to Aspley real estate agents and will show up different results in a different order.
Obviously you want your website to be found for the keyword "your area real estate agent" but there are also many other search terms that can bring you in traffic and leads that are less competitive.
For example here is an article that Haydn Meyer posted on Brisbane's most expensive suburbs

This article is ranking on the first page for the keyword "Brisbane's Most Expensive Suburbs."
Let's look at the traffic that this blog post has received. (This is just one article's stats not the entire website)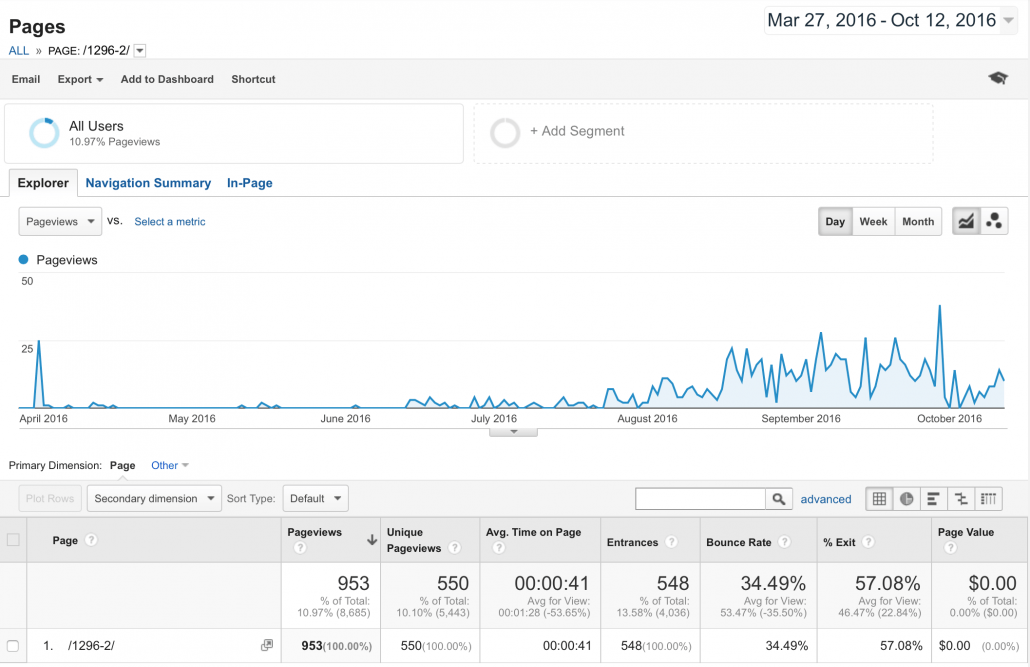 The article was published on the 31st of March 2016. In the 6 months since this article has been published it has generated 953 page views to Haydn's website.
You can see that initially the post got a bit of traffic when it was posted. Most likely from social media and his email list. Then the traffic is quiet for a bit. There is two months in April and June where the post doesn't get much traffic at all.
This is because Google hasn't ranked the page yet. Google doesn't usually put articles on the front page as soon as they are posted to prevent spammy articles from appearing. After the post had built up some authority in Google's eyes it started to rank.
Imagine if you had 10 or 20 of these articles all bringing you in hundreds of views to your website per month. Can you see how this strategy can quickly snowball and get your brand in front of lots of new people.
The way we teach our clients to increase their search engine rankings is through blogging. The more you effectively blog the better your search results will be.
Note that I said effectively, if you are just aimlessly posting content to your blog, without a strategy and without optimising the posts correctly you will not rank in Google.
How To Optimise your Blog Post For A Keyword
In the example above Haydn's blog post was ranking for the keyword "brisbane's most expensive suburbs"
To optimise a page for a keyword there are some key places that you want to include the keyword.
These include:
Page Title
URL
As a Heading 2 and Heading 3 in the content.
First 100 words
A couple of times throughout your content.
Image Alt Text
Meta Description
Let's go through this blog post and look at what is done well and what could be improved.
Title
The keyword has been included in the title which is important. The title is the most important on page SEO factor. It is what's called a H1 tag, which carries the most weight when Google is trying to determine what your page is about. You only want to have one H1 tag per page.
URL
You can see that the url doesn't include the keyword. Usually WordPress will automatically include the title as the url but something has happened in this case and the keyword isn't there.

If the URL looked like this when the article was published it would be much better optimised for the keyword.

Headings Throughout the Content
The title is the most important heading on your page, but subheadings also help to optimise your page for a keyword. You can add H2 and H3 tags to headings throughout your post to optimise it better.
WordPress allows you to easily add H2 and H3 tags to headings throughout your content.
The keyword wasn't included in any headings on this page.
We have added the keyword "brisbane's most expensive suburbs" to this heading and given it a H2 tag.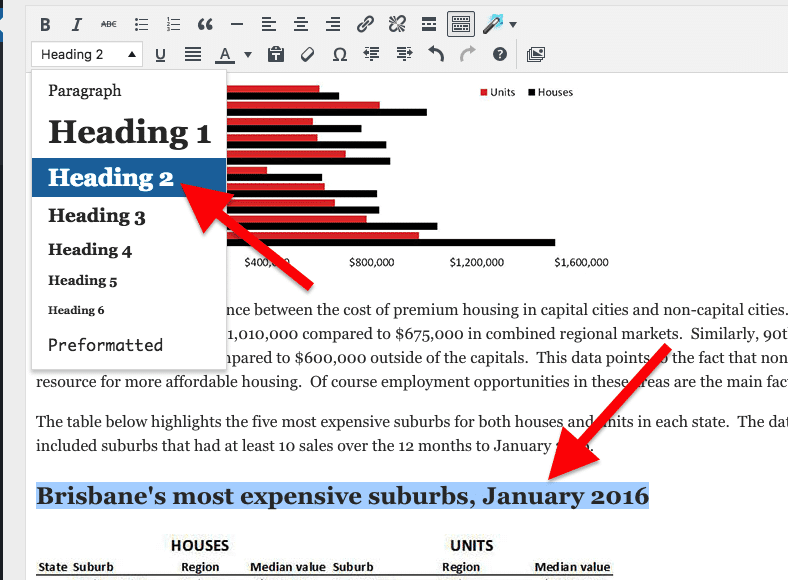 First 100 Words
The closer your keyword is to the top of the page the better. We have added the keyword into the first sentence to better optimise this page. You will then want to include it a couple of times throughout your content. Don't go overboard with this or it will look spammy,  but you need to make sure that Google knows what this page is about.
Image Alt Text
Google is a robot and as a result it can't see images like we can. So when you include pictures in your post Google doesn't know what the picture is about. Ideally you would want your pictures to be about the topic that your blog post is on. To tell Google that your pictures are about that topic, in this case "brisbane's most expensive suburbs" we want to make the image's alt text include that keyword.
To do this you just need to click on the image in your post and edit it.

Then you have the option to add Alternative Text or Alt text to the image. Add your keyword there, then click save. Do this for every image on your page.
Meta Description
Adding the keyword in your meta description is less important than it used to be but is still beneficial to include. We use the
You can add the SEO description to your page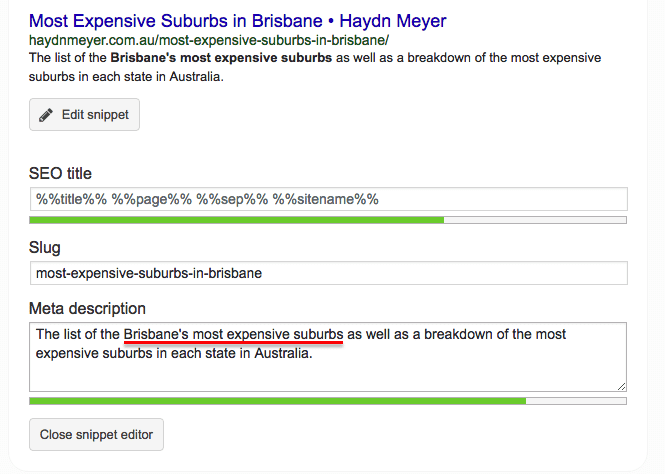 We use the Yoast SEO plugin on our websites to allow us to easily edit the meta descriptions like in the picture above.
The Yoast Plugin also provides you with an SEO Analysis of your page. You simply need to type in the keyword your want to rank for and it will give you some ideas on how well optimised your post is. You want to have as many green lights as possible.
After you have performed these steps your article is ready to be published. You can promote the article through your social media channels and to your database.
Blogging is a long term game. You won't see results overnight but if done consistently you will see results come in.
The best way to get found in Google is through fresh content. And the best way to create this is through blog posts.
If you would like to talk more about how you can increase your search engine rankings get in touch.