Videos are a great way to connect with your audience and share your expertise. More and more real estate agents are using the power of video to help build their brand in the local area.
In general most people would rather watch a movie than read the book that it's based on.
Videos attract more attention than regular text or images. Especially online.
Producing regular video content that is entertaining and informative is a great way to engage your ideal clients and become the local expert.
The problem is that video is typically expensive and difficult to create.
Nowadays it's no longer acceptable to have poor quality video especially when you're trying to present a professional brand.
The good news is that if you have a phone that was released in the last couple of years you can get started creating professional looking videos without having to pay for a videographer.
Having professional videos done is awesome however for a lot of agents the barrier of price and time and effort to set up a shoot holds them back from getting started and actually producing content.
Pulling your iPhone out of your pocket and hitting record won't cut it if you're looking to get a professional looking video. Here are a few ways that you can get professional quality video from your phone.
1. Film from a steady base.
The newest phones have built in image stabilisation but no matter how steady your hands are, nothing beats using a tripod.
If you have a tripod you can get an attachment like this that will allow you to attach your phone to the tripod so it will provide you with a steady shot.
The tripod attachment pictured above is a Joby griptight mount and costs about $20
If you don't have a tripod you can use the attachment above with the Joby Gorilapod like this that has bendy legs that will allow you to mount your phone to a desk or even a tree/light pole if you are shooting outdoors.

If you are serious about producing video content I would invest in some form of mount that allows you to get a consistent steady shot.
If you are out and about and want to make an on the fly video but don't have a tripod, here are a couple of tips to help get a better shot:
Keep the phone close to your body.
Rest your elbows on a nearby object.
Use your body to absorb bounces and shakes.
2. Film in landscape
Pretty self explanatory but its amazing how many people still film with their phone upright and then have the big black boxes on the side of their videos when they upload them to youtube.
3. Audio
Is fairly easy to get good quality video footage from a new phone. However most of the time your phones audio recording abilities never give you the professional touch you're looking for.
Most of the time the phone you are recording from is to far away from your subject and picks up too much background noise.
Poor audio can make your awesomely professional video go downhill very quickly.
One option to improve your phones current audio recording capabilities is to use an external microphone.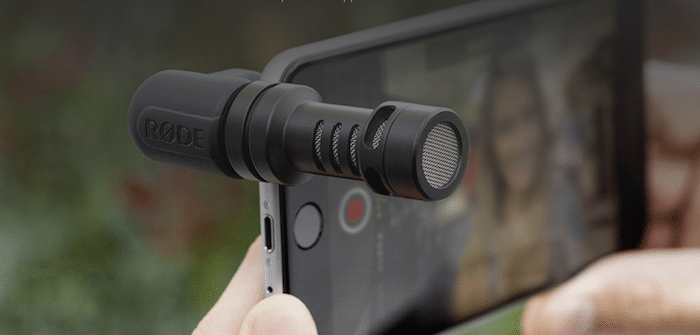 The rode Videomic me is a directional microphone that attaches directly to your phone and allows you to focus the audio you record directly on your subject.
That means that the microphone will reduce noises from behind and to the sides of the camera so you will have less background noise and clearer audio.
It does connect through your phones headphone port so if you have an iPhone 7 you will need the adaptor to connect it to your phone.
Ideally you want to get your microphone as close to your subject as possible.
To achieve this you could buy a extension cable like this which would allow you to attach an external microphone like the rode Videomic me closer to your subject.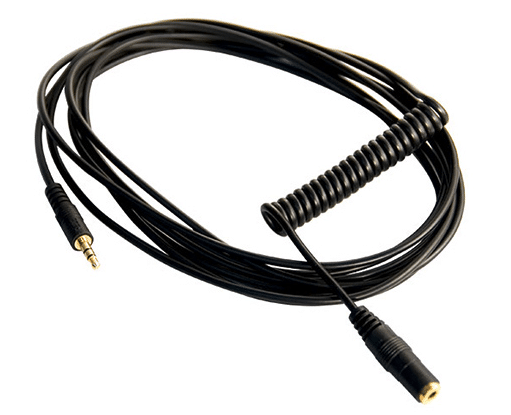 4. Lighting
Any professional videographer will tell you having a well lit video is key to the end product looking great.
When filming on your phone your footage will look best when your subject has a good amount of light on them.
If you're filming indoors you may need additional lighting to get the best result. You can pick up studio lights online that will do the job and are reasonably inexpensive.
However if you can't get your hands on any studio lights and are filming indoors position your subject so that they are facing a window and use the sun as your light source.
5. Exposure Lock
Your iPhone will automatically focus and expose your shot. This is great for taking quick pictures and videos on the fly, but if you're filming somebody talking in front of the camera it doesn't always work so well.
Your phone tends to keep adjusting and refocusing which can lead to jittery looking footage.
After you've got your iPhone mounted on your tripod press and hold on the area you want to focus on. This will lock the focus on this area. You can then slide your finger up and down the screen to adjust the exposure.
6. Don't use the digital zoom
Unless you have the iPhone 7 plus whenever you zoom on your phone you are loosing picture quality.
Since the lens isn't zooming optically (like a professional camera lens), all you're doing is enlarging the picture digitally which means that your videos are going to look more pixelated.
If you need to get a close up shot of your subject, move the phone closer until you get the perfect distance.
Conclusion
Videos are a great way to connect with your ideal clients and build your brand as the best agent in your area.
Professional looking videos are essential to maintain a high end brand.
If you are thinking about creating videos to promote your personal brand but didn't want to commit to hiring a videographer or purchasing expensive camera equipment then get started with these phone recording tips.
Have you tried recording a video with your phone? Share your thoughts (or even videos) in the comment section below.